BOA MISTURA-VANESSA MORATA-NICOLÁS ROMERO
"Collective Madrid"
Opening on Thursday October 7th from 6 p.m. to 9 p.m.
Exhibition from October 7th to November 24th, 2021.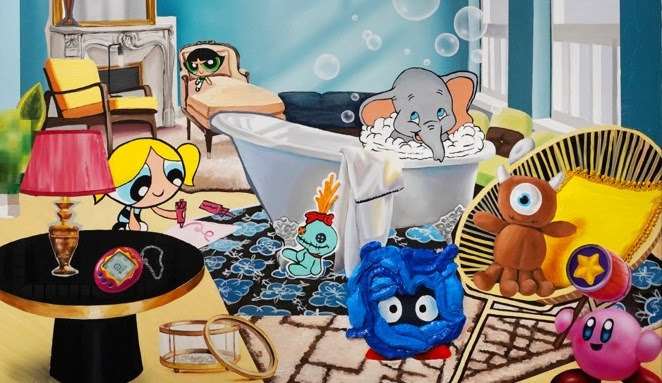 In parallel with the exhibition "Nulle Part" by artist SABEK, ADDA & SARTO presents the "Collective Madrid" a selection of works by Spanish artists BOA MISTURA, VANESSA MORATA and NICOLÁS ROMERO.
BOA MISTURA is a multidisciplinary collective based in Madrid. Javier Serrano, Pablo Purón, Pablo Ferreiro and Juan Jaume combine their training and individual specialties in architecture, advertising and Fine Arts to offer a complete concept in which the work and its context are studied in detail. Their monumental outdoor interventions convey positive messages with a strong impact through the use of the simple letter.
Their work has been shown in museums such as the Reina Sofia in Madrid, and at art biennials such as Shenzhen in 2017.
VANESSA MORATA (Malaga, 1992) is a visual artist graduated from the Fine Arts of Malaga who has been painting in oils since the age of 8.
Aware of the problems posed by the society of massive and abusive consumption, she criticizes these questions in a cryptic way, from a friendly aesthetic that can hide the true meaning of her work. His favorite themes are linked to popular culture. She introduces characters from cartoons and contemporary art by staging them in neat interiors. With this exhibition, VANESSA MORATA presents her work for the first time in France.
NICOLÁS ROMERO (Buenos Aires, 1985) is an Argentinian artist. It was in his teens that his artistic approach began to take shape through graffiti and lettering, then more complex murals.
Today, the artist explores Still Life in a sociological and anthropological approach. He is inspired by his immediate environment, featuring everyday elements, political and religious symbols, and contemporary icons.
NICOLÁS ROMERO is exhibited in the United States, Italy, Argentina and even South Africa.