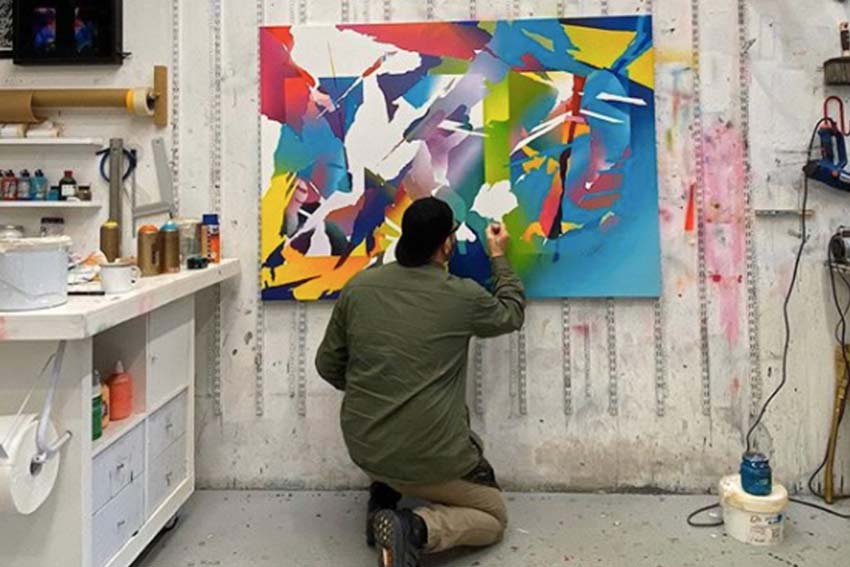 Arnaud Liard is a French contemporary artist born in 1975.
Arnaud Liard grew up in Parisian suburbs. When he was still a child, Arnaud got interested in photography and discovered graffiti. He developed his unique style along the Parisian train tracks and underground stations in the 1990s. Rejecting at an early age Graffiti's traditional American style, Liard is inspired by writers such as Zedz, Delta and Sender, who were also known for breaking free graffiti's traditional codes.
In parallel to this passion, he works in his studio developing a more formal practice on canvas. His research has led to a more in-depth work, searching for new textures and more figurative subjects, with the desire to incorporate these so-called "street" aesthetics that was the basis of his artistic career.
At first he applies cement on his canvases, in order to apply his painting, as he wants to recompose the appearance of the walls he draws on. The artist tells our history in strong colors.
Arnaud Liard's works are inhabited by the influence of street art, reflecting his interest in architecture and the city. It showcases topics stolen at the four corners of the city, redials the urban landscapes. Liard takes up major themes of human history and appropriates them. With the city as a backdrop, he builds an urban universe with a new and touching vision.