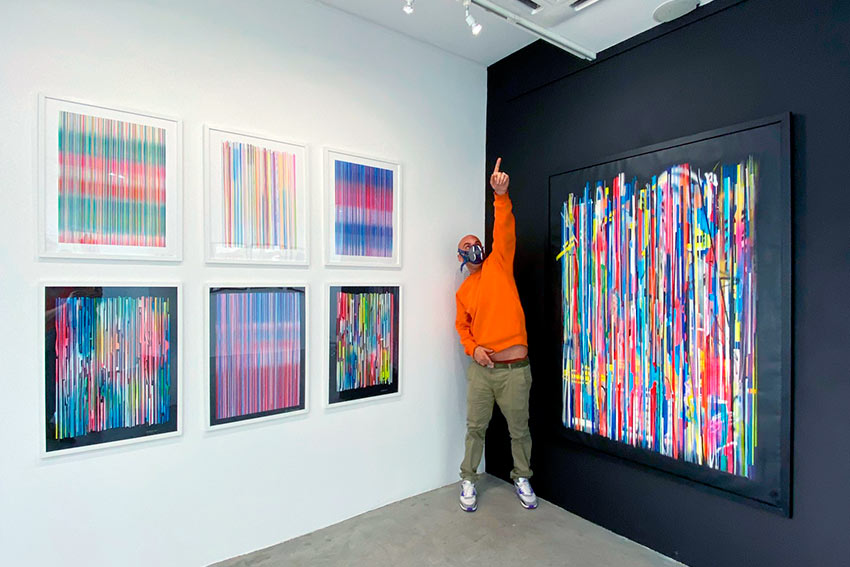 Coming from the world of rap and graffiti, Michael Eveno aka Grems, specializes in graphic design after his training at the Beaux Arts in Bordeaux. His style, which he himself describes as "popular", becomes a language that adapts to many media and takes over all the space: murals, flyers, record covers, canvases, interior design for a hotel …
Installed successively in Bordeaux, Brussels, and Biarritz, he exhibits his works throughout the world; notably at the contemporary plastic arts center in Bordeaux, at the Labotario Arte Alameda in Mexico, at the Pompidou center, and at the South Bank in London, while getting involved with the TT Crew, a collective of graffiti artists from Bordeaux, and the TER Crew, a collective of French activist graffiti artists.
He uses his talents as graphic designer and graffiti artist to carry out communication campaigns, for his own music label: Deephop Panel. He was then asked to carry out the Imagine R campaign launched by RATP in Paris.
He develops a language that goes against the reflexes that graffiti artists unconsciously reproduce by dint of wanting to respect the rules and conventions of an art that paradoxically claims to be detached from it.
Out of fear of ankylosis, GREMS once again breaks free from habits and conventions, but above all, and this is the most important, from what is expected of him. He thus transforms the paralyzing doubt into a doubt that projects towards a post-graffiti future bringing him closer to his years spent at the Fine Arts, and the expressionist language of his masters Pollock and Cy Twombly. An almost nostalgic future which is ultimately a present rushing to meet us.